Co-Parenting and You: Tips on Splitting Parenting Costs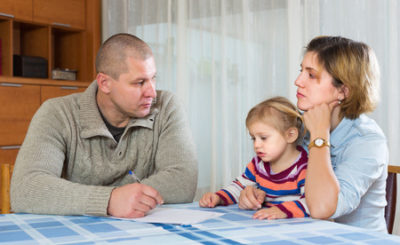 We've previously discussed strategies to help ensure that your co-parenting efforts proceed smoothly and without a hitch, and we thought it would be good to go over some more advice, this time in regards to the financial aspects of co-parenting. As you and your ex-spouse are well aware, raising children is a costly and stressful affair. This is why it's so important that you and the other parent work together and figure out a parenting costs plan that works for everyone.
Have Honest, Open Discussions
Like with any other co-parenting issues, communication is key. Be sure that you're both being frank but considerate with one another in discussing the needs of your child, as well as all associated costs. In those cases where face-to-face communication is not an option, remember that you can rely on mediators or lawyers to help facilitate communication between you two. Above all, be sure you're being frank while remaining open-minded about your ex-spouse's needs.
Create A Cost-Splitting Plan
Be sure to account for the specifics of your circumstances, and the needs of your child. Usually, a 50/50 split makes sense for some couples, but instances where individuals have large differences in income levels might call for a different arrangement. It's often a good idea to try and pay costs in a way that is proportionate to what you earn, and above all remember to keep the needs of your child as the topmost priority.
Remain Flexible and Allow For Some Wiggle Room
This is one section where most people run into trouble. We highly recommend that you remain flexible when you find yourself diverting from the established plan, especially because life can throw unexpected wrenches into the works. Avoid getting caught up in who paid for what and who owes what, even if your ex-spouse is the one who frequently falters in upholding their end of the bargain. Maintaining open communication and a good relationship is much more important, especially for the well-being of your child, provided you aren't being unreasonably taken advantage of.
Need a Family Law Attorney?
We at the R&S Law Group, LLP hope that you found this blog post informative. Want more information? If you need to speak to a family law attorney in California, be sure to reach out to our Orange, CA offices at your earliest convenience. We offer free initial consultations.